Septentrionale Americanum Latinitatis Vivae Institutum
North American Institute for Living Latin Studies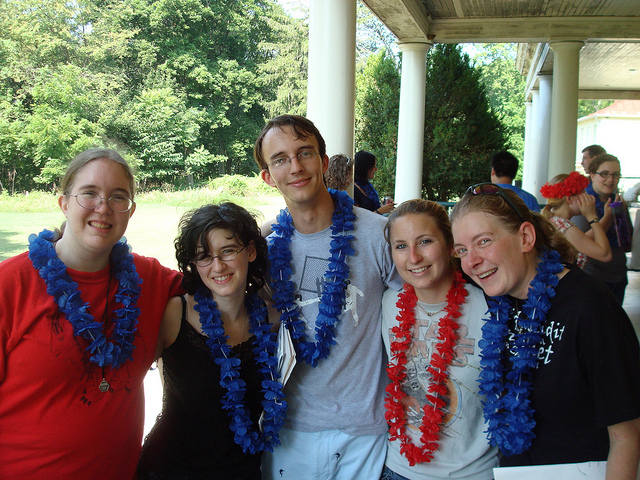 Mission Statement
SALVI's mission is to propagate communicative approaches to Latin language acquisition, making the entire Classical tradition of Western culture more available to—and enjoyable for—students, teachers, and the general public.
Educational Programs
Summer 2015 will feature a new combination of week-long Latin immersion events at Claymont Estate: Rusticatio Tironum and Rusticatio Veteranorum, with a third, Septimana Virginiana, to be added in a future year. Check the comparison chart to determine which program might be best for you.
Three Bidua Latina (one in Charles Town, West Virginia, one in Malibu, California, and one in Tulsa, Oklahoma) provide a full weekend of Latin immersion. Teachers will return to their classrooms with active Latin strategies they can use right away. Our newest event is Pedagogy Rusticatio, with four days of intensive guided practice for teachers. The Academia Aestiva, hosted at the Getty Villa in Malibu, California, is a five-day partial-immersion workshop designed for high school Latin students of all levels.
SALVI teachers at National TPRS conference
SALVI joined the National TPRS conference for this year's Pedagogy Rusticatio. Our experience there was enhanced by five sessions presented by SALVI regulars Keith Toda, Bob Patrick, and Justin Slocum Bailey. You can view the session descriptions at the bottom of the Pedagogy Rusticatio page.
Scholarships
Congratulations to the 2015 Amy High Fellow, Eric Mentges of Northwest Pennsylvania Collegiate Academy! Eric used his fellowship to attend Rusticatio Tironum.
SALVI has partnered with The Paideia Institute for the Humanities to create Peregrinantur | Rusticantur, an incentive program that provides scholarships for SALVI programs to teachers who organize travel through the Paideia Institute.
A Glimpse of Rusticatio
)
An Invitation to Rusticatio
Testimonials
Kendall
Natalie