Amy High Fellowship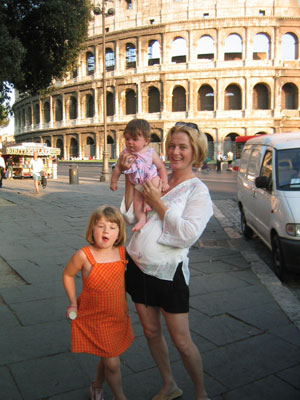 Receive funding for a SALVI immersion event!
The Amy High Fellowship supports candidates who otherwise could not afford to participate in Rusticatio or SALVI's other Latin immersion programs. The application period for 2016 is now open and we encourage you to apply. Questions about the Amy High Fellowship may be directed to salvi@latin.org.
About Amy High:
Amy (pictured in Rome in 2003 with daughters Maddie and Phoebe) was an enthusiastic supporter of SALVI and a personal friend of many who helped SALVI get where we are today. You may have known her by her Latin name--Amalia Alta--and you may also remember her for her vibrant performances as Iulia Pauli, the anchorwoman of the Forum Romanum classroom video series, or her translation of the children's classic Olivia into Latin. Amy had made a name for herself teaching elementary-school Latin in the Washington DC area and was still ascending to the peak of her career when she was taken from us suddenly and much too soon. Amy High Fellowships allow her vision of joyful Latin learning to continue to spread.
Previous Winners:
2015 Eric Mentges, Northwest Pennsylvania Collegiate Academy
Eligibility:
Amy High Fellowships are available for current Latin teachers and for students at least 18 years of age at the time of the program they wish to attend who have graduated from high school and are enrolled in undergraduate or graduate study, and who, having progressed in Latin beyond the basic level, are planning to pursue a career teaching Latin.
Funding:
This year's fellowship is an amount of up to $1500, which must be used for tuition, room and board (where applicable) at a SALVI full-immersion Latin event, and associated travel, lodging, and incidentals.
Application Process:
Applicants must complete the on-line application form, as well as request two letters of recommendation, which must also be submitted online. Applications must be fully completed by March 31, 2016. Completed applications will be read by SALVI's Amy High Fellowship Committee. Applicants will be notified of the award by email and on the SALVI website no later than Sunday, April 10, 2016. Only complete applications will be considered.
After submitting your application:
You will receive two emails: the first acknowledging receipt of your application; the second stating that both recommendations have been received and that your application is complete. Please contact us and/or your referees if you do not receive these acknowledgements.
Please direct any further inquiries to salvi@latin.org.
To apply for the 2016 Amy High Fellowship, click here. The recommendation form is found here.